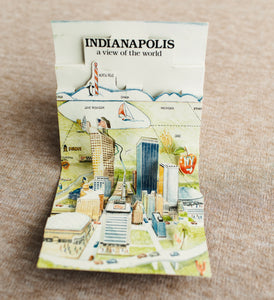 Still to this day, I can't stand in the checkout line at the grocery and not be immediately taken back to my mailbox growing up. As soon as that spicy spearmint hits my nose, my heart beats with anticipation. Even now, at 34, when she is long past able to write to me; that minty smell fills my mind with thoughts of Grandma Nancy..  I was a Navy brat growing up, and while most of my tender years were spent in Bremerton, WA, all of them were spent away from our home in Indiana. My grandma lived in a...
---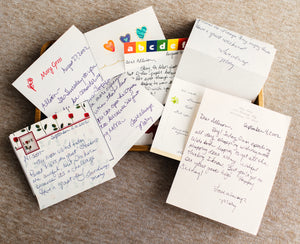 For as long as I can remember, getting the mail has been a daily joy.  As a little girl, our mail person, Roger, left my brother and me a piece of Bazooka gum (with the comic!) every day with our mail.  We would fight and race each other to be the first to the mailbox to retrieve the prize.  A day in which a birthday card or special note from a grandparent was in the bundle was an extra delight.   As I grew older, I still enjoyed the daily walk to the mailbox, although, admittedly, with less tenacity than when...
---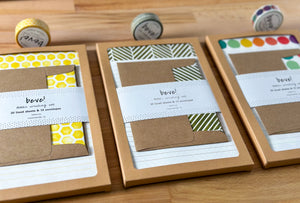 Everyone loves mail. It's just a universal truth.  When Allison and I told our friends and family that we planned to run a stationery business, we were met with a few confused looks.  "Like…cards?" You bet like cards. Because we wholeheartedly believe that a letter is always better. Humans crave to be seen, understood, and thought of. But, oftentimes, physical obstacles like distance or daily barriers like raising a family or going to work keep us from making those connections. How often do we pass by each other with a wave or a nod without really connecting?  These fleeting moments...
---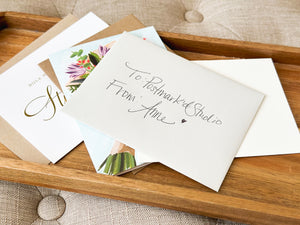 Hello Fellow Snail Mail Aficionados! You know that feeling on a grey dreary winter day, when the sun peaks through and the snow on the ground sparkles? Well, today is a day just like that. I am so excited to announce that Postmark'd Studio has new owners! Yes! You have read that correctly: the Postmark'd Studio snail mail revolution will continue in all its stationery wonderfulness. Postmark'd Studio had been my passion for the past 6 years and when I decided to retire, I was really thinking of just letting it go (no control issues here!). I soon realized as...
---
Postmark'd is back and hitting the ground running with 4 new subscription offerings at varying price points. Each unique Parcel is sure to delight at any level!  Parcel Lite $20 3 themed cards specialty postage for each card Parcel $29 4 themed cards specialty postage for each card 1 themed gift Parcel Premium $34 5 themed cards specialty postage for each card 1 themed gift 1 stationery supply Parcel Posh $43 5 themed cards specialty postage for each card 1 themed gift 1 stationery supply 1 posh stationery product Every month, the Parcels will have a theme. The theme is...